Dinotots Toothbrushing Programme!
As part of the new curriculum, and to help improve oral health amongst the children, Dinotots will be providing a supervised tooth brushing programme.
About the supervised tooth brushing programme:
Will be run by the Practitioners in the nursery and supported by fully trained and qualified dentists and dental hygienists
Takes place after the lunch break each day
Lasts approximately 20 minutes which is factored into the days learning
Includes supervision of tooth brushing using an age-appropriate fluoride-based toothpaste
Teaches children how to spit and not swallow the toothpaste
Includes teaching effective hand washing, to help prevent spread of germs, illnesses and infections
Will be continuously monitored and audited by the Practitioners and the dental team to ensure your child is benefitting from the programme.
All brushes, toothpastes and supplies are provided for so there is absolutely no financial obligation to parents for this programme
The Practitioners in Dinotots have completed a training programme taught by the dental team and toothbrushing supervisor, in order for the practitioners to supervise the children's tooth brushing.
It is important for both parent and child to brush their teeth regularly, to remove bacteria and prevent the build up of plaque.
It is especially important that we teach our children from an early age how to brush their teeth so that it becomes a part of their daily routine. Children will need help to learn, understand and develop their toothbrushing skills and that is where we come in to help.
"When should I begin brushing my child's teeth?" you may be wondering.
You should start brushing your child's teeth as soon as their first tooth comes through! Baby teeth help them to eat and speak and that is why it is so important that they are looked after. Clean you baby's teeth using a soft wet cloth or by using a soft toothbrush with water and make sure all gums are cleaned too, to make sure they are wiped of any bacteria.
Encouraging your child to brush their teeth.
As your child grows older they may want to try brushing their teeth by themselves, so encourage this by allowing them to brush first before you follow up to do it more thoroughly making sure all surfaces are clean. If they seem reluctant to brush their teeth, try to make it fun by singing a song or by making brushing noises.
"How can I help from home?" you may ask yourself?
You may wonder how you can ensure that your child has healthy teeth, you can do this not only by toothbrushing but also through a balanced diet, take a look at our poster to get an idea of what a balanced diet includes.
Facts from The Public Health website.
1 in 4 5 year olds suffer from tooth decay!
Over 65,000 children are admitted to hospitals in England for extractions under general anaesthetic
15% of the daily calories consumed by four to ten year olds is sugar!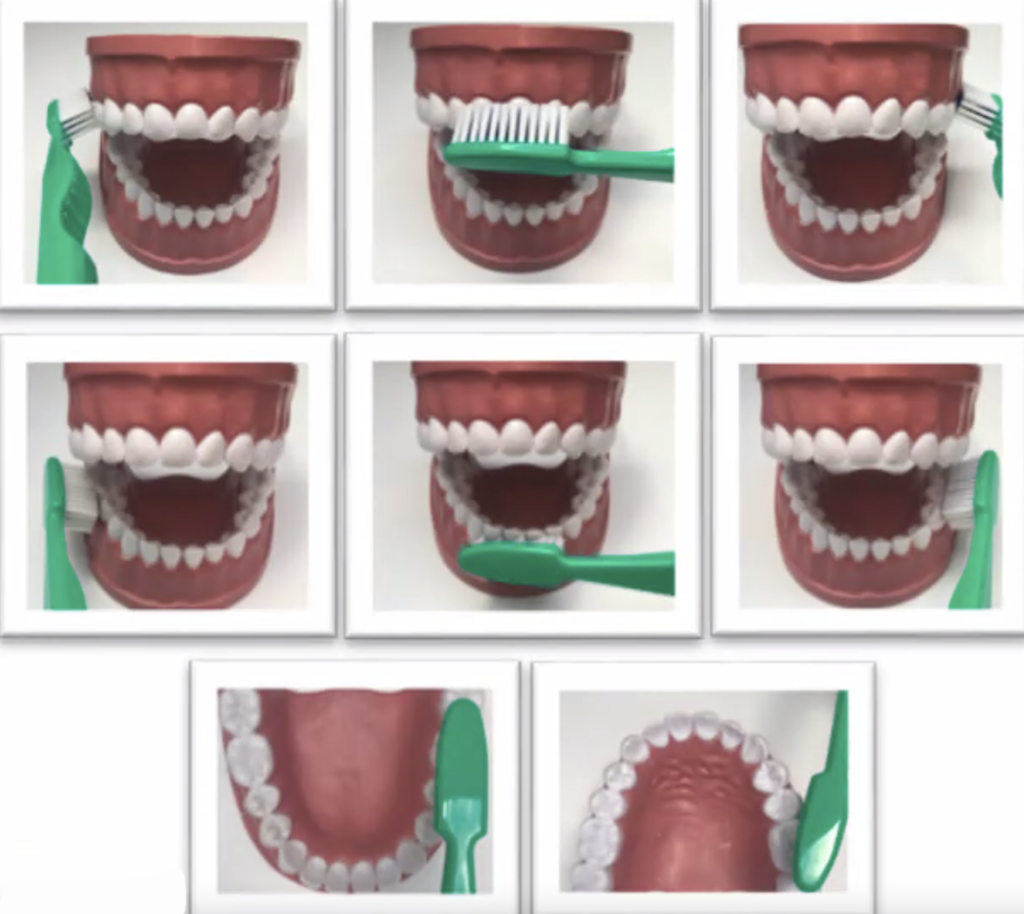 Brush for 2 minutes all surfaces of your teeth in the star pattern. Front teeth, back teeth, biting surface, outside, inside, upper and lower teeth.
Brush your tongue.
Spit out, do not rinse.
Rinse toothbrush with water.
Return toothbrush to toothbrush storage.